KarKaddy SS
Hydraulic surge brake system provides safe, controlled stopping
A durable galvanized finish with custom chrome wheels makes this tow dolly one you'll be proud to use for years to come
Will accommodate front wheel drive standard or automatic transmission vehicles
Less than 100 lbs. tongue weight, when loaded, for improved ride and handling of tow vehicles. Ideal for towing by mini motorhomes
Trouble free sealed bearing hub with 3-year unlimited warranty
Tilt-bed frame provides fast, easy loading. Positive locking mechanism on tilt-bed does not require a separate loose pin
Attached "SURE-GRIP" loading ramps provide a safe loading traction
Auto-steer cornering makes turns problem free
Lower center of gravity for towed vehicle improves stability
Dual safety chains for towed vehicle are standard
Wheel jack to help move the dolly when not loaded
LED lights give more illumination and longer life
Trailer Specifications
| | |
| --- | --- |
| Specification | Dimensions |
| Overall Width | 101 inches |
| Overall Length Unfolded | 133 inches |
| Overall Length Folded | 67 inches |
| Tires | ST205/75R14 load range (C) BSW radial tire |
| Weight (unloaded) | 615 lbs |
| Axle Capacity | 3,500 lbs. |
| Towed vehicle tread width | Minimum - 42 inces, Maximum - 76 inches |
| Maximum towed vehicle body width | 77 inches |
| Total Towed Vehicle Weight | 4,700 lbs. |
| Ball Coupler | 2 inches with a 6,000 lbs. Capability |
If You Purchase At Store, The Unit Will Be FULLY ASSEMBLED And Ready To Tow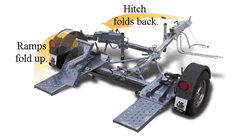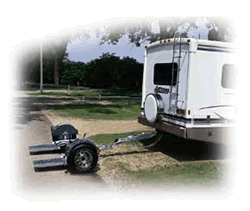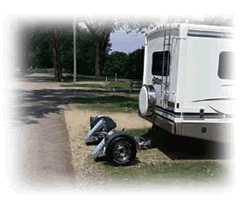 KarKaddy X
Load Angle Reduced by 4 Degrees to Fit Low Profile Vehicles.
Attached "SURE-GRIP" Low Profile Loading Ramps and Platforms. Formed and punched traction holes eliminate areas where dirt and moisture can cause corrosion problems.
Towed Vehicle Tread Width 42" Minimum, 78" Maximum.
Tilt-bed frame with positive automatic relatch locking mechanism for fast, easy loading.
Total Towed Vehicle Weight: 4,800 lbs.
Full coverage polyethylene fenders with protected, sealed lights.
Polyester basket style tie-down straps are safe easy to handle and are secured at three points. Towed vehicle rides on its own suspension.
You need only one hand to operate the wheel tie-down winches.
Attached safety tie-down chains for towed vehicle.
The KarKaddy X is standard with a hydraulic surge brake system.
Ideal for RV owners who need an economical, dependable auto transport.
Will accommodate front wheel drive standard or automatic transmission vehicles.
Less than 100 lbs. tongue weight, when loaded, for improved ride and handling of tow vehicles. Ideal for towing by mini motorhomes.
Attached loading ramps. No ramps to lift or store.
Dual safety chains for towed vehicle are standard.
If You Purchase At Store, The Unit Will Be FULLY ASSEMBLED And Ready To Tow